29.05.2018 | Original Paper | Ausgabe 1/2020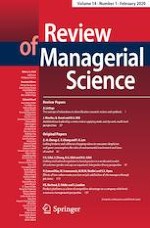 Does family involvement monitor external CEOs' investment decisions?
Zeitschrift:
Autoren:

Isabel-María García-Sánchez, Jennifer Martínez-Ferrero, Emma García-Meca
Abstract
This paper examines two closely related issues: first, the impact of a professional chief executive officer (CEO) on family investment decisions; and second, how the organizational context (family involvement and board effectiveness) interacts with the external CEO risk-bearing attitude to affect investment intensity in family firms. Using a sample composed of 103 family firms from 13 countries for the period 2008–2015, our results support the negative impact of non-family CEOs on family investment levels, especially when they are of longer tenure. However, our results note that family involvement moderates CEO risk aversion propensity, increasing the levels of investment needed to preserve socioemotional and financial goals in family firms. Therefore, this paper extends the knowledge on the determinants of investment intensity in family firms by simultaneously considering non-family CEO characteristics as well as the organizational context variables of family firms.