2018 | OriginalPaper | Buchkapitel
Does High-Frequency Trading Matter?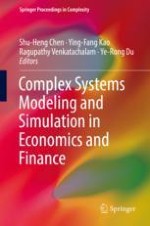 Erstes Kapitel lesen
Autoren: Chia-Hsuan Yeh, Chun-Yi Yang
Abstract
Over the past few decades, financial markets have undergone remarkable reforms as a result of developments in computer technology and changing regulations, which have dramatically altered the structures and the properties of financial markets. The advances in technology have largely increased the speed of communication and trading. This has given birth to the development of algorithmic trading (AT) and high-frequency trading (HFT). The proliferation of AT and HFT has raised many issues regarding their impacts on the market. This paper proposes a framework characterized by an agent-based artificial stock market where market phenomena result from the interaction between many heterogeneous non-HFTs and HFTs. In comparison with the existing literature on the agent-based modeling of HFT, the traders in our model adopt a genetic programming (GP) learning algorithm. Since they are more adaptive and heuristic, they can form quite diverse trading strategies, rather than zero-intelligence strategies or pre-specified fundamentalist or chartist strategies. Based on this framework, this paper examines the effects of HFT on price discovery, market stability, volume, and allocative efficiency loss.