2015 | OriginalPaper | Buchkapitel
Does Multilevel Semantic Representation Improve Text Categorization?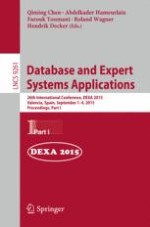 Erstes Kapitel lesen
Autoren: Cheng Wang, Haojin Yang, Christoph Meinel
Abstract
This paper presents a novel approach for text categorization by fusing "Bag-of-words" (BOW) word feature and multilevel semantic feature (SF). By extending Online LDA (OLDA) as multilevel topic model for learning a semantic space with different topic granularity, multilevel semantic features are extracted for representing text component. The effectiveness of our approach is evaluated on both large scale Wikipedia corpus and middle-sized 20newsgroups dataset. The former experiment shows that our approach is able to preform semantic feature extraction on large scale dataset. It also demonstrates the topics generated from different topic level have different semantic scopes, which is more appropriate to represent text content. Our classification experiments on 20newsgroups achieved 82.19 % accuracy, which illustrates the effectiveness of fusing BOW and SF features. The further investigation on word and semantic feature fusion proves that Support Vector Machine (SVM) is more sensitive to semantic feature than Naive Bayes (NB), K Nearest Neighbor(KNN), Decision Tree (DT). It is shown that appropriately fusing low-level word feature and high-level semantic feature can achieve equally well or even better result than state-of-the-art with reduced feature dimension and computational complexity.