2018 | OriginalPaper | Buchkapitel
Does Persistent Learning or Limited Information Matter in Forward Premium Puzzle?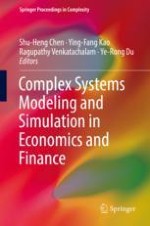 Erstes Kapitel lesen
Autor: Ya-Chi Lin
Abstract
Some literature explains the forward premium puzzle by the learning process of agents' behavior parameters, and this work argues that their conclusions may not be convincing. This study extends their model to the limited information case, resulting in several interesting findings: First, the puzzle happens when the proportion of full information agents is small, even people make expectation near rationally. Second, allowing the proportion of full information agents to be endogenous and highly relied on the performance of forecasting, agents turn to become full information immediately, and the puzzle disappears. These results are similar in different learning gain parameters. Our finding shows that limited information would be more important than learning, when explaining forward premium puzzle. Third, the multi-period test of Fama equation is also examined by the exchange rate simulated by learning in the limited information case. The Fama coefficients are positive, and the puzzle will not remain. It is consistent with the stylized facts in the multi-period version of Fama regression, which is found in McCallum (J Monet Econ 33(1):105–132, 1994). Finally, we also find that if agents rely on the recent data too much when forecasting, they tend to overreact on their arbitrage behavior. The Fama coefficient deviates further from unity. People might not benefit from having more information.