2017 | OriginalPaper | Buchkapitel
Does Query Blocking Improve DNS Privacy?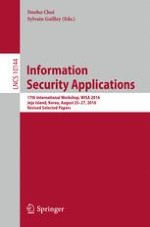 Quantifying Privacy Under Partial Blocking Deployment
Autoren: Aziz Mohaisen, Ah Reum Kang, Kui Ren
Abstract
DNS leakage happens when queries for names within a private namespace spread out to the public DNS infrastructure (Internet), which has various privacy implications. An example of this leakage includes the documented [
1
] leakage of .onion names associated with Tor hidden services to the public DNS infrastructure. To mitigate this leakage, and improve Tor's privacy, Appelbaum and Muffet [
2
] proposed the special use .onion domain name, and various best practice recommendations of blocking of .onion strings (hidden service addresses) at the stub (browser), recursive, and authoritative resolvers. Without any form of analysis of those recommendations in practice, it is very difficult to tell how much of privacy is provided by following them in various deployment settings. In this paper, we initiate for the study of those recommendations by analyzing them under various settings and conclude that while the unlikely universal deployment will naturally improve privacy by preventing leakage, partial deployment, which is the case for early adoption, will degrade the privacy of individuals not adopting those recommendations.