15.09.2018 | Original Research | Ausgabe 4/2018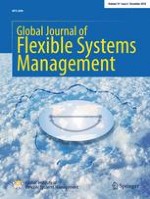 Does Regulatory Flexibility Affect Risk Disclosures in Annual Report?
Zeitschrift:
Autor:

M. V. Shivaani
Abstract
Flexibility is often defined in terms of autonomy of actions, freedom of expression, balancing in competing opposites and agility in actions. Such flexibility assumes greater significance in the dynamic system in which business operates. In this mutually reinforcing system, Indian regulators have accorded flexibility to companies to decide the nature, type, tone and time orientation of risk disclosures (in annual reports) based on their competitive position. Accordingly, the paper strives to ascertain how this regulatory flexibility is leveraged by Indian companies. For the purpose, content analysis and textual analysis are employed on over 4000 annual reports of NIFTY500 companies, covering a period 10-year period from 2005 to 2015. In tune with agency theory, proprietary cost theory, duality theory and contingency theory, the findings indicate that companies that are in a better competitive position tend to make greater and more comprehensive risk disclosures. The results are robust at company level, industry level and sectoral level. Further, the results unambiguously reflect how this flexibility affected the strategic decision making during the time of global financial crisis. Amidst calls for increasing regulations, particularly in the domain of disclosures, these findings clearly highlight the need for regulatory flexibility in decisions that have strategic implications for firms.