2020 | OriginalPaper | Buchkapitel
5. Does Repression of Campaigns Trigger Coups d'État?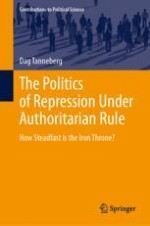 Erstes Kapitel lesen
Autor: Dag Tanneberg
Abstract
Does complementarity between restrictions and violence stabilize authoritarian power-sharing in the face of popular rebellion? Scholars widely concur that the central political conflict in authoritarian regimes plays out between people on the inside of the regime. This chapter adds to the debate and studies coup attempts in light of two interconnected hypotheses. First, violence against campaigns destabilizes power-sharing because it exposes a weak leadership. Second, this adverse effect of violence declines as the routine level of restrictions increases, because restrictions act as a sorting mechanism for uncompromising political opposition. Both hypotheses are tested using Bayesian multilevel statistical analysis on a data set of 253 coup attempts in 198 authoritarian regimes between 1949 and 2007. This study design allows separation of repression's time-dependent effects from its context effects, and it demonstrates the value of Bayesian methods for studying rare political phenomena such as coups d'état. The chapter's conclusion, however, is straightforward: Once citizens form campaigns, repression can only deteriorate the situation because it opens a frontline right at the center of authoritarian rule.