2020 | OriginalPaper | Buchkapitel
4. Does Repression Prevent Successful Campaigns?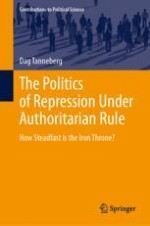 Erstes Kapitel lesen
Autor: Dag Tanneberg
Abstract
Campaigns against authoritarian rule trigger the problems of authoritarian control and power-sharing. Hence, autocrats cannot ignore campaigns, but can they repress them? This chapter hypothesizes that restrictions and violence do just that—if those forms of political repression complement each other. Each variant of political repression has drawbacks: Restrictions dampen, but they do not eliminate interdependent behavior; violence imposes high individual costs on dissent, but it frequently backfires against its originators. Complementarity asserts that those drawbacks matter less when both variants of repression work in tandem. Statistical analysis of 50 campaigns distributed across 112 authoritarian regimes between 1977 and 2001 yields mixed support for the argument. Based on a binary probit model with sample selection correction, the analysis adds a preemptive and a reactive aspect to political repression. The results imply that complementarity matters as long as repression preempts campaigns, but not when it reacts to them. Moreover, once citizens knock at the palace gates, restrictions turn futile. Finally, violence reduces the outlook for successful resistance against authoritarian rule, but it also backfires at all times—preemptive and reactive. By implication, political repression thwarts successful resistance today, but it breeds more resistance tomorrow.