01.06.2015 | Ausgabe 3-4/2015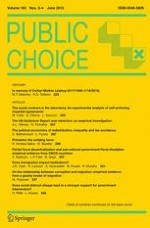 Does social distrust always lead to a stronger support for government intervention?
Zeitschrift:
Autoren:

Hans Pitlik, Ludek Kouba
Abstract
The paper considers 'trust' as an empirical determinant of individual support for government intervention. The central notion is that the influence of generalized trust on policy attitudes is conditional on confidence in both state actors and major companies. The starting point is the idea that individuals who generally distrust other persons have a stronger taste for the regulation of economic activities, while people with high interpersonal trust are in favor of less stringent regulatory control. Yet, people who do not trust unknown others also tend to mistrust government and private companies. If mistrust in state actors dominates, we should not necessarily expect stronger interventionist preferences. Estimating the determinants of interventionist attitudes using data from the World Values Survey/European Values Study for approximately 130,000 individuals in forty OECD- and EU-countries, we find evidence that the impact of social trust on government intervention attitudes is conditional on institutional trust. Confidence in major companies appears to have a stronger effect on preference formation than trust in state actors.