2019 | OriginalPaper | Buchkapitel
Does the Pop-Out Make an Effect in the Product Selection of Signage Vending Machine?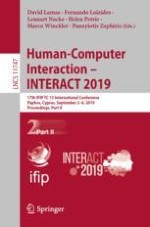 Erstes Kapitel lesen
Autoren: Mitsuki Hosoya, Hiroaki Yamaura, Satoshi Nakamura, Makoto Nakamura, Eiji Takamatsu, Yujiro Kitaide
Abstract
When people select a product, they often face problems that they spend too much time to make a choice or tend to pick only popular items. As a solution to this problem, we focused on visual characteristics called pop-out, assuming that presenting the pop-out can lead to shortening the selection time and a wider variety of choice. In this study, we implemented a signage vending machine which had a pop-out function and conducted a long-term experiment (half year) to investigate the effect of the pop-out method in a real environment. From 2826 sales, we revealed that the selection time was short when the purchased items were popped-out, and a popped-out product was more likely to be selected by 1.51 times than chance level during the cold-only period that sold cold products only. On the other hand, there was no effect of the pop-out during the hot/cold mixed period that sold both cold and hot products.