2017 | OriginalPaper | Buchkapitel
19. Does the Rand Per US Dollar Exchange Rate Volatility Impact on Net Asset Purchases by Non-residents?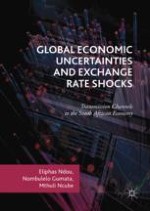 Erstes Kapitel lesen
Autoren: Eliphas Ndou, Nombulelo Gumata, Mthuli Ncube
Abstract
This chapter examined whether exchange rate volatility impacts net asset purchases by non-residents and determined if the effects vary amongst overall, permanent and transitory exchange rate volatilities. Evidence attests to the volatile and the transitory nature of capital flows, this is particularly the case for bond flows. This has serious policy implications for the design of policies aimed at controlling capital flows, reducing financial market distortions and the associated exchange rate movements. The variance ratios of net asset purchases by non-resident decline as the forecast horizons increase. The halflife analysis of shocks attests to the very short-term nature of net asset purchases by non-residents. Furthermore, we find that the rand depreciation shock has a bigger impact on the slowdown of net equity purchases by non-residents. This means that it is not only difficult to predict longer-term net asset purchases based on the information conveyed by current flows, but there is also a significant positive feedback loop indicating reinforcement of the effects. We contend that if capital flows exhibited some form of persistence and therefore predictability, policymakers would be able to anticipate the exchange rate movements with some degree of confidence. This would alleviate a great deal of uncertainty with respect to the inflation forecast and possibly assist with the predictability of the monetary policy responses. Furthermore, it would help with the design of policy measures aimed at dealing with the unintended effects of volatile capital flows. At the same time, possibly reduce doubts about the efficacy of capital flow controls.