12.02.2019 | Ausgabe 1/2020 Open Access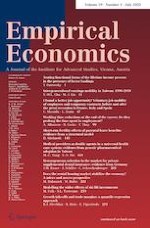 Does the rental housing market stabilize the economy? A micro and macro perspective
Zeitschrift:
Autoren:

Michal Rubaszek, Margarita Rubio
Wichtige Hinweise
This project was financed by the National Science Centre Grant No. 2014/15/B/HS4/01382. It benefited from comments made by the participants to the ESPA Poland 2016 Conference (Warsaw, September 2016), Macromodels 2016 (Lodz,November 2016), Prognozowanie i Modelowanie Gospoadarki Narodowej (Sopot, May 2017), ERES Annual Conference (Delft, June 2017), AREUEA International Conference (Amsterdam, July 2017) and ESEM-EEA (Lisbon, August 2017) as well as internal seminars at Warsaw School of Economics and the University of Nottingham. We are especially grateful to the Editor of the journal, an anonymous referee, K. Kuerschner, M.T. Punzi, Paul Mizen, T. Schmidt and Dimitrios Tsomocos for insightful feedback. We also thank Harriet Lee for help in editing the text.
Publisher's Note
Springer Nature remains neutral with regard to jurisdictional claims in published maps and institutional affiliations.
Abstract
The size of the rental housing market in most countries around the globe is small. In this article, we claim that this may be detrimental to macroeconomic stability. We do it in three steps. First, using survey data for Poland, a country with a high homeownership ratio, we discuss microeconomic housing tenure choice determinants. Second, with a panel of 28 EU countries over the period 2004–2017, we provide evidence that the response of house prices to macroeconomic fundamentals is attenuated by the size of the private rental market. Third, we propose a DSGE model in which households satisfy housing needs both by owning and by renting. By simulating the model, we show that reforms enhancing the rental housing market contribute to macroeconomic stability. We conclude by formulating policy recommendations.