01.01.2014 | Ausgabe 1/2014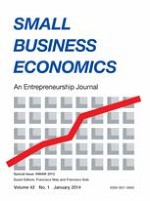 Does trade credit play a signalling role? Some evidence from SMEs microdata
Zeitschrift:
Autoren:

Mariarosaria Agostino, Francesco Trivieri
Abstract
Using micro-data on small- and medium-sized enterprises, this paper empirically investigates the "signalling hypothesis" formulated on the role of trade credit (Biais and Gollier in Rev Financ Stud 10: 903–937,
1997
; Burkart and Ellingsen in Am Econ Rev 94: 569–590,
2004
). The research method adopted allows evaluation of the impact of suppliers' credit on bank debt accounting for the strength (duration) of bank–firm relationships. Our main finding is that trade credit seems to have an information content for banks, especially when the latter do not dispose of adequate (soft) information on firms, which is likely the case at the beginning stages of bank–firm relationships. An implication of our results is that the availability of suppliers credit might be crucial to foster access to institutional funding for new firms entering the market. Our evidence also suggests that banks seem to consider suppliers a reliable source of information on firms' financial conditions even after several years of lending relationships.