19.01.2016 | Ausgabe 1/2017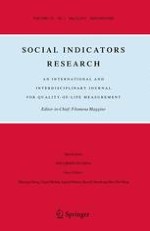 Donations Make People Happier: Evidence from the Wenchuan Earthquake
Zeitschrift:
Autoren:

Qianping Ren, Maoliang Ye
Wichtige Hinweise
Shifting from buying stuff to buying experiences, and from spending on yourself to spending on others, can have a dramatic impact on happiness.
Abstract
We examine the effect of donation on the happiness of donors using the 2010 wave of the China Family Panel Study. We consider data from the Wenchuan earthquake, which has induced a large amount of donations from all Chinese communities. We use two measures of donation behavior, namely, donations for victims of the Wenchuan earthquake and for general purposes. We address the endogeneity problem using the percentage of donation in the community the respondent lives in as the instrumental variable, conditional on the generosity of other residents toward each other in the same community. We also employ the propensity score matching method to check for the robustness of our results. All results show that donation has a significantly positive effect on happiness. Our study provides new evidence on the relationship between donation and happiness using natural observations, which complement the experimental evidence in the recent literature.