01.08.2014 | Theoretical Advances | Ausgabe 3/2014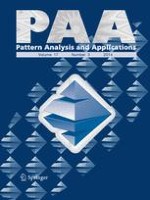 Double indices-induced FCM clustering and its integration with fuzzy subspace clustering
Zeitschrift:
Autoren:

Jun Wang, Fu-lai Chung, Shitong Wang, Zhaohong Deng
Abstract
As one of the most popular algorithms for cluster analysis, fuzzy c-means (FCM) and its variants have been widely studied. In this paper, a novel generalized version called double indices-induced FCM (DI-FCM) is developed from another perspective. DI-FCM introduces a power exponent
r
into the constraints of the objective function such that the fuzziness index
m
is generalized and a new criterion of selecting an appropriate fuzziness index
m
is defined. Furthermore, it can be explained from the viewpoint of entropy concept that the power exponent
r
facilitates the introduction of entropy-based constraints into fuzzy clustering algorithms. As an attractive and judicious application, DI-FCM is integrated with a fuzzy subspace clustering (FSC) algorithm so that a new fuzzy subspace clustering algorithm called double indices-induced fuzzy subspace clustering (DI-FSC) algorithm is proposed for high-dimensional data. DI-FSC replaces the commonly used Euclidean distance with the feature-weighted distance, resulting in having two fuzzy matrices in the objective function. A convergence proof of DI-FSC is also established by applying Zangwill's convergence theorem. Several experiments on both artificial data and real data were conducted and the experimental results show the effectiveness of the proposed algorithm.