2017 | OriginalPaper | Buchkapitel
Dr. Johannes Antonius Veraart:
A Catholic Economist on
Rerum Novarum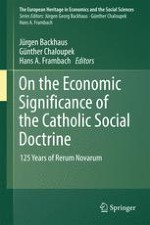 Erstes Kapitel lesen
Autor: Robert W. J. Jansen
Abstract
The purpose of this essay is to investigate the impact of the encyclical
Rerum novarum
on economics and industrial organization in the Netherlands. To determine this impact the career and scholarly writings of professor Dr. Johannes Antonius Veraart (1886–1955) is investigated. He was a productive and assertive catholic economist committed to parliamentary democracy in the first half of the twentieth century. Veraart emphasized a distinction between a realist and an ethical approach in his publications about economics. He adopted this distinction from the German economist Adolph Wagner (1835–1917) and the Austrian economist Eugen Philippovich (1858–1917). During the Second World War he served as an economic advisor to the cabinet-in-exile Gerbrandy. In 1944 prime minister Pieter Gerbrandy dismissed him for having criticized the government about post war democracy. Although Veraart and his ideas have almost been neglected in Dutch economics once the literature described him as the auctor intellectualis of the Dutch variant of corporatism or industrial organization regulating the relations between labour, capital and state. In his writings and talks about corporatism he referred extensively to the encyclicals
Rerum novarum
and
Quadragesimo anno
. Both documents breathed the philosophy of Thomism. As a student Veraart became familiar with this philosophy at the University of Amsterdam. The essay discusses respectively his educational and political background, his economic approach and ethics, his interpretation of
Rerum novarum
, and his political influence. Finally, the relevance of this encyclical in the 21st century is briefly considered. For the investigation literature about the political history of Dutch Catholicism was studied together with documents made accessible by the Veraart Collection at the National Archive in The Hague.