01.02.2011 | Research Article | Ausgabe 2/2011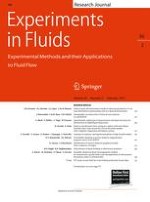 Drag characteristics of longitudinal and transverse riblets at low dimensionless spacings
Zeitschrift:
Autoren:

René Grüneberger, Wolfram Hage
Abstract
A surface grooved with microscopic riblets aligned parallel to the flow is an effective means to reduce the turbulent skin friction up to 10% compared to a smooth surface. The maximum drag reduction is found for a dimensionless rib spacing
s
+
in the range of 15–17. For
s
+
< 10, a linear behaviour of the drag reduction curve is predicted by viscous theory. This linear slope of the drag reduction curve is in contradiction to Schlichting's postulation of a hydraulically smooth behaviour of small-scale roughness in a turbulent flow. This regime of evanescent dimensionless rib spacings is investigated experimentally by direct wall shear stress measurements in a fully developed channel flow. Additionally, a numerical calculation of the viscous flow over riblets was carried out to predict the drag reducing behaviour. The experimental results show a linear drag reducing behaviour down to
s
+
= 0.3, which is in good agreement with the numerical results of the viscous simulation. The postulation of Schlichting's hydraulically smooth regime of a rough surface was not confirmed, neither for a riblet surface nor for a surface geometry with grooves oriented perpendicular to the flow. In the latter case, the drag increases as a quadratic function of the roughness height.