2012 | OriginalPaper | Buchkapitel
Drag Effectiveness of Supercavitating Underwater Hulls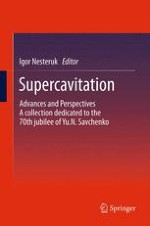 Erstes Kapitel lesen
Autor: Igor Nesteruk
Verlag: Springer Berlin Heidelberg
Abstract
The important problem of the drag reduction of underwater hulls was investigated analytically and numerically. The axisymmetric flows of the ideal and the viscous fluid were used. Different effectiveness criteria, such as: the volumetric drag coefficient, the drag coefficients, based on the maximum body cross-section area and the squared hull length, and the ranges of the inertial motion were applied.
The use of known analytic dependences for the slender axisymmetric cavity shapes after the slender or the non-slender cavitators, it was shown that the value of the volumetric drag coefficient and the similar coefficients, based on the squared values of the length and the caliber, can sufficiently be reduced at small cavitation numbers. The smallest values of these drag coefficients correspond to the largest aspect ratios and the slender cavitators. Comparison of the drags of the supercavitating and unseparated flow patterns showed the existence of the critical values of the volume and dimensions. The supercavitating flow pattern is preferable for the values of these parameters smaller than critical ones. The need of the buoyancy force compensation sufficiently diminishes the critical values of the vehicle volume or its dimensions, which achieve maximum at a certain value of the motion velocity. In the case of the base cavity existence, the estimations of the supercavitating hull pressure drag and the comparison with the unseparated flow pattern are presented. The critical values of the body volume have a maximum at a certain value of the movement velocity and drastically increase with the aspect ratio increasing.
Maximum range problems are considered for the supercavitating motion of the axisymmetric body on inertia under an arbitrary angle to horizon. Different isoperimetric problems were formulated and solved with the fixed values of the body mass, kinetic energy, aspect ratio and caliber. Analytic and numeric solutions for the maximal range and the optimal body shapes are obtained. It was shown that infinite small exceeding some critical value of the initial depth can cause a jump of the range and coming to the water surface. The corresponding values of the critical initial depth are calculated.