2016 | OriginalPaper | Buchkapitel
4. Drinking Water Supply in India: Context and Prospects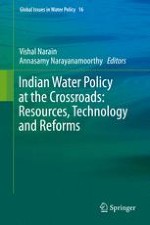 Erstes Kapitel lesen
Autoren: Aidan A. Cronin, Anjal Prakash, Praveena Sridhar, Sue Coates
Abstract
India has made significant progress in developing its water resources and the supporting drinking water infrastructure. In fact, it has met the water target for its MDG commitment and in doing so has contributed significantly to the global achievement of this target. However, rapid development, increasing population and variable resource distribution has led to the current demand for water outweighing supply.
Large budgetary outlays since independence and a high political focus on drinking water have resulted in the country supplying water through improved sources to 92 % of its citizens. Improved sources, as per Joint Monitoring Program definitions, do not reflect the safety of the water supplied. Also improved sources do not result necessarily in improved health and nutrition outcomes due to other factors; the principal being poor sanitation and hygiene. This chapter will, therefore, deal with water along with sanitation and hygiene.
Like any other basic service, to be delivered efficiently the institutions responsible for them play a crucial role. Clear delegation of responsibilities is essential for this. This is not the case in India today with numerous institutions with duplicate roles and also significant gaps. In addition, inadequate institutional performance, lack of appetite for reforms and ineffective implementation of existing provisions have affected the performance levels for water supply, in both the rural and urban contexts. Besides the institutional challenges, other factors affecting water supply in India include political will, environmental sustainability (including climate change), social dynamics, technological appropriateness and economics.
In spite of a sizeable water resource base and vast land resource, India continues to struggle to meet its drinking water requirements. This paper examines the landscape challenges and opportunities for improved drinking water supply in India. Positive developments can be seen in the recommendations for the 12th Five Year plan but will require systematic implementation of reforms and a strong political will.