05.04.2019 | Technical Paper | Ausgabe 11/2019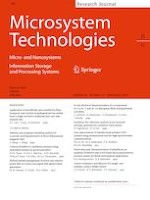 Driving and detection system of vibrating piezoelectric gyroscope at atmospheric pressure for multi-axial inertia sensor
Zeitschrift:
Autoren:

Byengleul Lee, Seung-Joon Paik, Kyunghan Chun, Bonghwan Kim
Wichtige Hinweise
Publisher's Note
Springer Nature remains neutral with regard to jurisdictional claims in published maps and institutional affiliations.
Abstract
We developed a driving and sensing system for a multi-axial inertial sensor that operates at atmospheric pressure using vibrating piezoelectric gyroscope sensors. We developed driving circuit modules with self-oscillation and an automatic gain controller and a synchronous detection circuit for demodulation of the sensing signals. The self-oscillation function was tested using a charging amplifier and phase shifter. Self-oscillation works by detecting a displacement signal differentially, adjusting it by a phase of π/2, and sending it to the oscillation signal generator. The stop time was improved from 15 to 3 ms using an inverse driving module. The driving circuit maintained stable oscillation throughout operation of the gyroscope because the automatic gain controller was added to the self-oscillation loop. A velocity demodulation method was implemented for the sensor to demodulate the outputs of angular velocities; this is more beneficial for decoupled vibrating gyroscopes compared to displacement demodulation. The response under angular rate was 1°/s in the x- and y-directions, and the measurement sensitivity was 17.2 µV/(°/s). The measured Q of the fabricated piezoelectric gyroscope was maintained stably at 400–500 at normal pressure.