2016 | OriginalPaper | Buchkapitel
Driving Innovation in Youth Policies with Open Data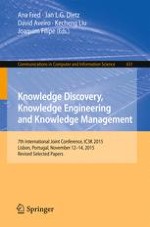 Erstes Kapitel lesen
Autoren: Domenico Beneventano, Sonia Bergamaschi, Luca Gagliardelli, Laura Po
Abstract
In December 2007, thirty activists held a meeting in California to define the concept of open public data. For the first time eight Open Government Data (OPG) principles were settled; OPG should be Complete, Primary (reporting data at an high level of granularity), Timely, Accessible, Machine processable, Non-discriminatory, Non-proprietary, License-free. Since the inception of the Open Data
philosophy
there has been a constant increase in information released improving the communication channel between public administrations and their citizens.
Open data offers government, companies and citizens information to make better decisions. We claim Public Administrations, that are the main producers and one of the consumers of Open Data, might effectively extract important information by integrating its own data with open data sources.
This paper reports the activities carried on during a research project on Open Data for Youth Policies. The project was devoted to explore the youth situation in the municipalities and provinces of the Emilia Romagna region (Italy), in particular, to examine data on population, education and work. We identified interesting data sources both from the open data community and from the private repositories of local governments related to the Youth Policies. The selected sources have been integrated and, the result of the integration by means of a useful navigator tool have been shown up. In the end, we published new information on the web as Linked Open Data. Since the process applied and the tools used are generic, we trust this paper to be an example and a guide for new projects that aims to create new knowledge through Open Data.