2019 | OriginalPaper | Buchkapitel
Driving the Company's Players to Take Ownership of Ergonomics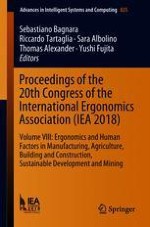 Erstes Kapitel lesen
Autor: J.-P. Zana
Abstract
To ensure the success of this ownership initiative, companies have to adhere to 5 major key performance points:
1.
show genuine commitment by the company's senior management,
2.
mobilize all the necessary skills and make them work together,
4.
integrate and organize the sustainability of the initiative,
5.
devote sufficient time to planning and to exploiting feedback.
The first stage starts with a screening-diagnosis campaign, representative of the company's activities. The analyses of the work situations observed must enable companies to undertake the first preventive actions. The approach must be suited to the company, and the recommendations must promote preventive actions.
The second stage consists of a transfer of ergonomics skills by training people to become 'officers' in ergonomics as applied to the company's activities. This entails training-action in the field with workshops organized by implementing the methods and tools proposed for the analysis of the activity as well as a method for appraising the physical workload or physical demands of the job.
The third stage to be put in place involves sharing actions between plants, between factories (for manufacturing groups) and between companies within the same business sector, that could be coordinated by professional organizations.
It is fair to say today that those companies which have undertaken diagnoses, pursue their actions with the same desire to continue making progress in evaluating risks liable to cause MSDs (musculoskeletal disorders) and, above all, in rolling out a culture of prevention of risk exposure factors.
It is still too early to assert the role of this initiative in the decline in the number of MSDs, but companies committed to the issue are implementing long-term actions for the ongoing improvement of work situations and seeing the emergence of a prevention culture and a desire to involve all stakeholders.