08.05.2018 | Biomaterials | Ausgabe 15/2018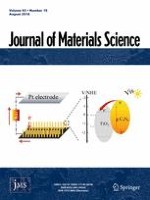 Dual-pH-sensitive mesoporous silica nanoparticle-based drug delivery system for tumor-triggered intracellular drug release
Zeitschrift:
Autoren:

Hui Chen, Ying Kuang, Rong Liu, Zhongyin Chen, Bingbing Jiang, Zhengguang Sun, Xueqin Chen, Cao Li
Wichtige Hinweise
Electronic supplementary material
Abstract
Reducing the side effects and improving the drug utilization are important work in anti-cancer drug delivery. In this paper, a novel dual-pH-sensitive drug delivery system was reported. Mesoporous silica nanoparticle (MSN) was applied to load anti-cancer drug doxorubicin hydrochloride (DOX) and was covered by mono-6-deoxy-6-EDA-
β
-cyclodextrine (
β
-CD-NH
2
) to block the pores through pH-sensitive boronate ester bond. And the carriers were then coated with methoxy poly(ethylene glycol) (mPEG) through another pH-sensitive benzoic imine bond. mPEG leaving studies, in vitro cellular uptake studies and the flow cytometry analysis, proved that carriers was "stealthy" at pH 7.4, but could be "activated" for cytophagy by cancer cells in weakly acidic tumor tissues (pH 6.5) due to the departure of mPEG.
β
-CD-NH
2
leaving studies, the in vitro drug release studies and the in vitro cytotoxicity studies proved that boronate ester bond linking MSN and
β
-CD-NH
2
was stable at both pH 7.4 and 6.5, but could be hydrolyzed intracellular to release DOX for cellular apoptosis due to the lower pH (5.0). In summary, the novel dual-pH-sensitive drug delivery system fabricated with a dynamic protection strategy should have great application potential in anti-cancer drug delivery fields.