2011 | OriginalPaper | Buchkapitel
Dune Sand Fixation: Mauritania Seawater Pipeline Macroproject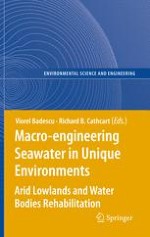 Erstes Kapitel lesen
Autoren: Viorel Badescu, Richard B. Cathcart
Verlag: Springer Berlin Heidelberg
Abstract
Wide-spreading actively migratory sand dune fields are mainly found in the Earth's climatically designated desert regions—"hot deserts" cover ~14.2% of Earth's land (Peel et al.
2007
; Parsons and Abrahams
2009
). Some eremologists suspect that "global desertification", a persistent decline of ecosystems' benefits for humans—loss of utility or potential utility of land—in already dry regions, is occurring and will increase as the twenty-first century unfolds (Yizhaq et al.
2007
). "Drylands cover about 41% of Earth's land surface and are home to more than 38% of the total global population of 6.5 billion" (Reynolds et al.
2007
). Here, however, we focus only on certain active sand dune fields located in the northern Africa coastal nation of Mauritania where few people live and work today (Badescu and Cathcart
2008
).