2019 | OriginalPaper | Buchkapitel Open Access
3. Dynamic Adaptive Planning (DAP)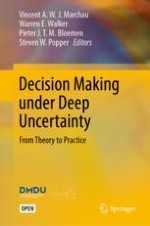 Autoren: Warren E. Walker, Vincent A. W. J. Marchau, Jan H. Kwakkel
Abstract
DAP is a DMDU approach for designing a plan that explicitly includes provisions for adaptation as conditions change and knowledge is gained.

The resulting plan combines actions to be taken right away with those that make important commitments to shape the future and those that preserve needed flexibility for the future.

The approach includes the specification of a monitoring system, together with the specification of actions to be taken when specific trigger values are reached.

This chapter describes the DAP approach and illustrates it with a (more or less) fictitious case. A real-life application is given in Chap.

8

.