2019 | OriginalPaper | Buchkapitel Open Access
9. Dynamic Adaptive Policy Pathways (DAPP): From Theory to Practice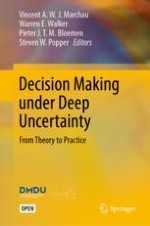 Autoren: Judy Lawrence, Marjolijn Haasnoot, Laura McKim, Dayasiri Atapattu, Graeme Campbell, Adolf Stroombergen
Abstract
Decision making by flood risk managers is challenged by uncertainty and changing climate risk profiles that have elements of deep uncertainty.

Flood risk managers at a regional level in New Zealand requested better understanding and tools for decision making under conditions of uncertainty and changing conditions.

A game was used to catalyze a process of new knowledge transfer and its uptake in technical assessments and decision making processes.

The understanding enabled DAPP to be used to develop a long-term plan that can accommodate changes in flood frequency from climate change (as projected in three climate change scenarios) over at least 100 years.

Use of "new" economic tools with DAPP facilitated decision making to consider the sensitivity of alternative policies to a range of climate change scenarios, to discount rate, decision review date, and costs and losses, thus addressing deep uncertainty by considering the long-term effects of initial decisions to changing conditions.

The risk of path-dependent decisions and the role that current frameworks and practices play in blinding actors to the range of possible outcomes that could evolve in the future, was reduced.

A series of interventions to raise and increase awareness through new information and its framing, experimentation, and leadership enabled the uptake of DAPP.