01.06.2011 | Long Paper | Ausgabe 2/2011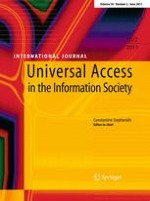 Dynamic mix zone: location data sanitizing in assisted environments
Zeitschrift:
Autoren:

Zhengyi Le, Yi Ouyang, Guanling Chen, Fillia Makedon
Wichtige Hinweise
This work was supported in part by the National Science Foundation under award number ITR 0733674, IDM 0733673, and CT-ISG 0716261. Any opinions, findings, and conclusions or recommendations expressed in this publication are those of the author(s) and do not necessarily reflect the views of the National Science Foundation.
Abstract
Pervasive technology has been widely used in assistive environments and aware homes. The issue of how to preserve the privacy of patients being monitored has been attracting more public concerns. In assistive environments, location data of patients are collected through sensors for behavior patterns analysis, and they can also be shared among researchers for further research for early disease diagnosis. However, location information, even though de-identified, also introduces the risk of privacy leakage. A series of consecutive location samples can be considered as a trajectory of a single person, and this may leak private information if obtained by malicious users. This paper discusses this problem and proposes a location randomization algorithm to protect users' location privacy. Two privacy metrics according to location privacy are defined and used to evaluate the proposed approach. A method using dynamic mix zones is proposed to confound trajectories of two or more persons.