03.03.2020 | Ausgabe 4/2020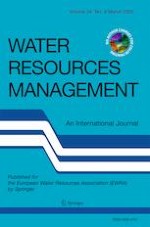 Dynamic Optimization Model for Improving Urban Water Supply System Fragility with Uncertain Streamflow
Zeitschrift:
Autoren:

Mahdi Moudi, Zhongwen Xu, Liming Yao, He Yuan
Wichtige Hinweise
Publisher's Note
Springer Nature remains neutral with regard to jurisdictional claims in published maps and institutional affiliations.
Abstract
With uncertainties in available water resources, the performance of water supply systems must be assessed and optimized to meet future sectoral demands. This study develops a dynamic model by evaluating fragility, which comprises three indexes: reliability, resiliency and vulnerability. With the aim of mitigating the negative stressors that lead to system collapse, dynamic multisectoral water supply optimization is conducted. To mitigate the negative impacts of water scarcities on system fragility over the long term, the performance of dynamic systems must be assessed. Optimization can shift the water supply system fragility (WSSF) to a robust or even an antifragile state. A real-world case study in Northeast China is conducted over ten-year intervals. Based on the optimized model, several managerial insights are given to the policy makers of the Tianjin Binhai New Area (TBHN) to cope with streamflow uncertainties. Finally, scenario analysis and sensitivity analysis are conducted, and the results indicate that as water availability decreases, both reliability and vulnerability decrease, which further increases system fragility. In addition, the reliability of the system greatly contributed to system antifragility compared with the contributions of resilience and vulnerability.