22.12.2016 | Communication | Ausgabe 2/2017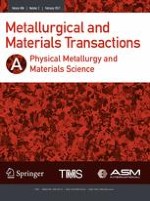 Dynamic Recrystallization Behavior of a Coarse-Grained Mg-2Zn-2Nd Magnesium Alloy
Zeitschrift:
Autoren:

Tong Wang, John J. Jonas, Stephen Yue
Wichtige Hinweise
Manuscript submitted July 12, 2016.
Abstract
Compression tests were performed on samples of Mg-2Zn-2Nd at 673 K (400 °C) and at three different strain rates. At 0.1/s, three mechanisms of dynamic recrystallization (DRX) were observed to operate: discontinuous DRX (DDRX), twinning DRX (TDRX), and continuous DRX (CDRX). At 0.01/s, DDRX took place as a result of grain boundary bulging, followed by CDRX on further straining. At 0.001/s, only CDRX was observed. At a strain of 0.3, the activation of multiple DRX mechanisms in the 0.1/s samples produced the weakest deformation textures.