01.06.2008 | Ausgabe 6/2008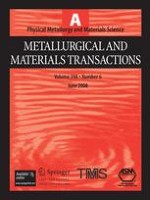 Dynamic Recrystallization of AA5083 at 450 °C: the Effects of Strain Rate and Particle Size
Zeitschrift:
Autoren:

S. Agarwal, P.E. Krajewski, C.L. Briant
Wichtige Hinweise
Manuscript submitted April 21, 2007.
Abstract
This article presents a study of the dynamic recrystallization that occurs when AA5083 is deformed at elevated temperatures and strain rates typical of those observed in quick plastic forming (QPF). Strain rates between 0.0005 and 0.3/s were used for these tests, which were performed with the samples at 450 °C. The results showed that for strain rates at or below 0.01/s, no recrystallization occurred. At higher strain rates, recrystallization did occur in the most highly strained regions of the sample. The recrystallized grain size was smallest at the highly-strained fracture point and increased in size as one moved away from the fracture end toward the grip of the sample. Below a critical strain, no further recrystallization was observed. This critical strain decreased with increasing strain rate and with an increase in the diameter of the largest constituent particles in the sample. Analysis of the results showed that both a critical strain rate and critical strain were required to achieve dynamic recrystallization. Humphrey's model for critical strain rate gave qualitative agreement with experimental results, but the fact that the strain rate in the necked region of the sample increases above the nominal strain rate made a more detailed comparison with the model difficult.