05.01.2016 | Ausgabe 3/2016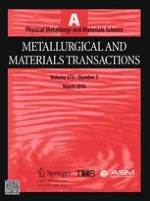 Dynamic Strain Aging and Oxidation Effects on the Thermomechanical Fatigue Deformation of Reduced Activation Ferritic-Martensitic Steel
Zeitschrift:
Autoren:

A. Nagesha, R. Kannan, V. S. Srinivasan, R. Sandhya, B. K. Choudhary, K. Laha
Wichtige Hinweise
Manuscript submitted July 22, 2015.
Abstract
Thermomechanical fatigue (TMF) behavior of a reduced activation ferritic-martensitic steel was investigated under in-phase (IP) and out-of-phase (OP) conditions under different mechanical strain amplitudes and temperature regimes. OP TMF was generally observed to result in the lowest cyclic lives compared to both IP TMF and isothermal low cycle fatigue (IF) at the maximum temperature (
T
max
). The stress–strain hysteresis loops under TMF were marked by extensive serrations associated with dynamic strain aging (DSA) at the strain amplitudes of ±0.4 and ±0.6 pct. The serrations were noticed during the downward ramp of temperature that resulted in IP and OP TMF exhibiting jerky flow in the compressive and tensile portions, respectively. However, no evidence of serrated flow was seen under IF cycling at any of the temperatures within the TMF cycle. The stress response during IP TMF was marked by a near-saturation regime over 65 to 70 pct of life in contrast to continuous cyclic softening in the case of OP TMF. The marked life reduction observed under OP cycling at the strain amplitudes of ±0.4 and ±0.6 pct was attributed to the deleterious influence associated with oxidation, DSA, and tensile mean stress. The findings assume importance in the context of elevated temperature fatigue design, considering the fact that the IF data at
T
max
are deemed adequately conservative in traditional design approaches.