01.05.2013 | Original Article | Ausgabe 1/2013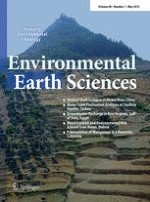 Dynamic study on water diffusivity of soil with super-absorbent polymer application
Zeitschrift:
Autoren:

Yuguo Han, Xinxiao Yu, Peiling Yang, Bo Li, Lei Xu, Chengzhi Wang
Abstract
Drought is a great concern in agricultural yield. Super-absorbent polymers (SAPs) can assist in easing water shortage. Therefore, it is significantly important to study the water absorbing and desorbing capacity of SAPs when applied into soil as well as their effective time. The aim of this study was to investigate the effect of different SAP types under the same moisture condition and the effect of the same SAP type under different moisture conditions on saturated soil water content, saturated soil hydraulic conductivity and soil water diffusivity. With SAP application, saturated soil water volumetric content increased significantly, up to 0.186 cm
3
cm
−3
, while saturated hydraulic conductivity and diffusivity significantly decreased because the soil pores were blocked by SAP's swelling volume during the repeated wetting and drying cycles. After SAPs were mixed in the soil, their capacity of absorbing and desorbing water showed a downward trend with time and outside water condition. Under a relatively stable water condition, such capacity reduced more slowly. As for the soil with SAP application, successful simulation for diffusivity
D
(
θ
,
T
) was also applicable to other parameters of the equation of water movement, which made it possible to study the water movement under the same condition.