27.02.2018 | Ausgabe 8/2018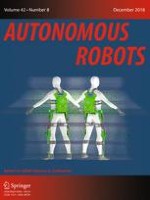 Dynamic teams of robots as ad hoc distributed computers: reducing the complexity of multi-robot motion planning via subspace selection
Zeitschrift:
Autoren:

Michael Otte, Nikolaus Correll
Wichtige Hinweise
This is one of several papers published in
Autonomous Robots
comprising the "Special Issue on Distributed Robotics: From Fundamentals to Applications".
Abstract
We solve the multi-robot path planning problem using three complimentary techniques: (1) robots that must coordinate to avoid collisions form temporary dynamic teams. (2) Robots in each dynamic team become a distributed computer by pooling their computational resources over ad hoc wireless Ethernet. (3) The computational complexity of each team's problem is reduced by carefully constraining the environmental subspace in which the problem is considered. An important contribution of this work is a method for quickly choosing the subspace, used for (3), to which each team's problem is constrained. The heuristic is based on a tile-like pebble motion game, and returns
true
only if a subset of the environment will permit a solution to be found (otherwise it returns
false
). We perform experiments with teams of four and six CU Prairiedog robots (built on the iRobot Create platform) deployed in a large residence hall, as well as ten robots in random simulated environments.