01.02.2011 | Original | Ausgabe 1/2011 Open Access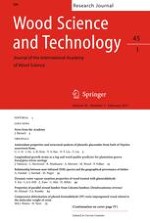 Dynamic water vapour sorption properties of wood treated with glutaraldehyde
Zeitschrift:
Autoren:

Yanjun Xie, Callum A. S. Hill, Zefang Xiao, Carsten Mai, Holger Militz
Abstract
The dynamic water vapour sorption properties of Scots pine (
Pinus sylvestris
L.) wood samples were studied to investigate the modifying effects of glutaraldehyde. Pine sapwood was treated with solutions of glutaraldehyde and a catalyst (magnesium chloride) to obtain weight per cent gains of 0.5, 8.6, 15.5, and 21.0%, respectively. The sorption behaviour of untreated and treated wood was measured using a Dynamic Vapour Sorption apparatus. The results showed considerable reduction in equilibrium moisture content of wood and the corresponding equilibrium time at each target relative humidity (RH) due to glutaraldehyde treatment. The moisture adsorption and desorption rates of modified and unmodified wood were generally faster in the low RH range (up to approximate 20%) than in the high range. Modification primarily reduced the adsorption and desorption rates over the high RH range of 20–95%. Glutaraldehyde modification resulted in a reduction in sorption hysteresis due to the loss of elasticity of cell walls.