01.11.2020 | Ausgabe 11/2020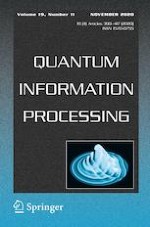 Dynamics of a heterogeneous quantum Cournot duopoly with adjusting players and quadratic costs
Zeitschrift:
Autoren:

Xinli Zhang, Deshan Sun, Wei Jiang
Wichtige Hinweise
Publisher's Note
Springer Nature remains neutral with regard to jurisdictional claims in published maps and institutional affiliations.
Abstract
Based on bounded rationality and adaptive expectation, this paper sets up a dynamic quantum Cournot duopoly game model by introducing quadratic costs instead of linear costs and analyzes the stability of quantum equilibria, the impact of quantum entanglement on stability region and dynamic behavior of the system. The result shows that the stability region is affected by cost coefficients difference and quantum entanglements as key parameters between models with quadratic and linear costs and is especially found to be smaller than those with linear costs. Chaotic dynamics is confirmed to depend mainly on the adjustment speeds of bounded rational player, and the quantum entanglements can accelerate or delay the occurrence of the system's chaotic behavior depending on cost coefficient differences. Numerical simulations demonstrate the complexity features of the dynamic system, stress similarities and differences between models with quadratic and linear costs and give new evidences in comparison with linear costs.