10.03.2020 | Original Paper | Ausgabe 6/2020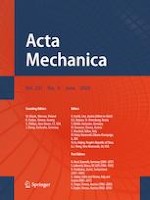 Dynamics of a viscoelastic cylinder on a viscoelastic half-space
Zeitschrift:
Autoren:

Alexandra A. Zobova, Irina G. Goryacheva
Wichtige Hinweise
The part of the work related to the dynamic analysis was performed under the support of the Russian Foundation for Basic Research (Project 19-01-00140), and the part related to the contact problem analysis within the framework of a State assignment, State Registration No. AAAA-A20-120011690132-4.
Publisher's Note
Springer Nature remains neutral with regard to jurisdictional claims in published maps and institutional affiliations.
Abstract
The deceleration of a viscoelastic cylinder rolling with slipping on a viscoelastic half-space of the same material without driving forces and torques is studied. The interaction of the cylinder and the half-space is described from the solution of the 2D quasistatic contact problem of viscoelasticity (Goryacheva in J Appl Math Mech 37(5):877–885, 1973, Contact mechanics in tribology, Kluwer, Dordrecht, 1998). This solution states that the contact region consists of the slip and stick zones, and it is shifted forward in the direction of motion. Contact normal and shear stresses and, therefore, the resultant force and torque depend on the values of the linear velocity of the cylinder and creep ratio, as well as the mechanical properties of contacting bodies and sliding friction coefficient. The Cauchy problem for dynamical equations of the cylinder's deceleration was solved numerically. The analysis of the deceleration process and changes in the contact normal and shear stress distributions in time for various initial conditions is presented.