01.03.2021 | Ausgabe 3/2021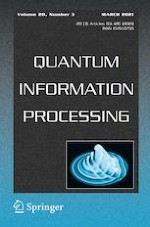 Dynamics of field nonclassicality in the Jaynes–Cummings model
Zeitschrift:
Autoren:

Shuangshuang Fu, Shunlong Luo, Yue Zhang
Wichtige Hinweise
This work was supported by the Fundamental Research Funds for the Central Universities (Grant No. FRF-TP-19-012A3), the National Key R & D Program of China (Grant No. 2020YFA0712700) and the National Natural Science Foundation of China (Grant Nos. 11875317 and 61833010).
Publisher's Note
Springer Nature remains neutral with regard to jurisdictional claims in published maps and institutional affiliations.
Abstract
Employing an informational quantifier for nonclassicality of bosonic field based on the Wigner–Yanase skew information, we investigate the dynamics of field nonclassicality in the Jaynes–Cummings model evolving from several typical initial atom–field states: coherent states, Fock states, and thermal states for the field, and ground state, excited state, symmetric superposition state, and maximally mixed state for the atom. We reveal some intriguing features of the field dynamics and their sensitivity on the initial states from an informational perspective. The results show that field nonclassicality can be generated in most cases and exhibits complex dynamic patterns involving collapses and revivals. A remarkable observation is that the initial coherent field states, assisted by the atom, can be converted to almost maximally nonclassical field states constrained by the average photon number, even though all coherent states are the most classical and possess the same minimal nonclassicality among pure states. The field dynamics may be exploited to estimate the initial atom as well as the field states, prepare desired evolving states and process quantum information.