01.10.2011 | Ausgabe 4/2011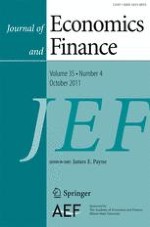 Dynamics of floating exchange rate: how important are capital flows relative to macroeconomic fundamentals?
Zeitschrift:
Autoren:

Wei Sun, Lian An
Abstract
While focusing on traditional macroeconomic fundamentals, existing literature has provided little understanding of impacts of various types of capital flows on the dynamics of floating exchange rates. This paper develops a structural VAR model that takes into account macroeconomic fundamentals as well as various types of capital flows in explaining the fluctuations of the floating exchange rates of the Australian dollar, the Canadian dollar, and the U.S. dollar over 1980–2004. Our main findings are as follows. Among the traditional macroeconomic fundamentals, relative interest rate still plays a significant role in explaining exchange rate dynamics for all three currencies. Capital flows play an important role in explaining the fluctuations in the Australian dollar and the Canadian dollar, but not the U.S. dollar. In particular, portfolio investment is the most explanatory factor for the Australian dollar and the Canadian dollar. For the U.S. dollar, relative interest rate explains the most of exchange rate fluctuations, especially in the medium to the long run. The results indicate that capital market transactions do play important roles in determining exchange rates; however, it may have different implications for the reserve currencies versus the non-reserve currencies. Further research is needed.