23.09.2019 | Technical Paper | Ausgabe 4/2020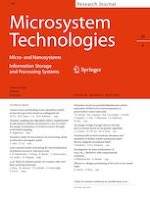 Dynamics study of a microsensor for perceiving unsafe acceleration and angular speed
Zeitschrift:
Autoren:

Zhen Qiao, Zhanfang Liu
Wichtige Hinweise
Publisher's Note
Springer Nature remains neutral with regard to jurisdictional claims in published maps and institutional affiliations.
Abstract
A micro-trigger sensor that can perceive unsafe acceleration and angular speed is proposed in this study. This sensor can send an alarm message regarding the excessive speed of rotating machinery or activate the automobile airbag during emergencies. A mathematical and mechanical model with size-dependent is established through generalized elasticity theory and Euler–Bernoulli beam hypothesis. The governing equations of motion are deduced using Hamilton's principle and solved using a modal superposition method. The influence of the degree of freedom (DOF) on the dynamics response is analyzed, and the result converges when the DOF is 5. Meanwhile, the dynamics response of the microcantilever under instantaneous impact and centrifugal force are evaluated along with the engineering background. Oscillation is observed in dynamics response results, but oscillation is not obvious when the deflection change rate is minimal. Furthermore, the scale effect of the dynamics response is examined, and the obvious scale effect is noted in the calculation results. Lastly, the trigger position of the circular ring is ascertained via the graphical method in cases of specified and unspecified trigger time.