13.01.2021 | Ausgabe 3/2021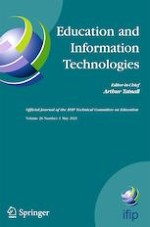 E-culture of Russian students: Socio-cultural differentiation
Zeitschrift:
Autoren:

Ekaterina Vladimirovna Kargapolova, Andrey Vadimovich Novikov, Stanislav Viktorovich Kargapolov, Andrey Petrovich Koshkin, Julia Aleksandrovna Davydova
Wichtige Hinweise
Publisher's note
Springer Nature remains neutral with regard to jurisdictional claims in published maps and institutional affiliations.
Abstract
Electronic culture constitutes a new form of social adjustment in the digital era. Our study aims to reveal socio-cultural differentiation in the social group of Russian students whose e-culture is being shaped. Moscow students became our test group. To achieve the research aim we analyzed the concept of "e-culture" focusing on its theoretical and methodological interpretations. The paper provides an overview of current approaches to understanding electronic culture, namely competence- and activity-based approaches, axiological and institutional ones. Cultural studies of classical sociology served as theoretical and methodological basis for our applied research. Sociological approach enables to reveal the position of e-culture in modern society and detect its differentiating action on everyday practices and value system of distinct social groups. Thus, we suggest that we should extend our applied sociological study of students' e-culture by using a significant indicator, i.e. reflective-axiological attitude towards electronic technologies. We surveyed students of Russian universities and can now conclude that students from different test groups shape their e-culture at their own pace. Reflective-axiological attitude to ICT exerts a significant impact on e-culture formation; due to operational thinking technical students shape their critical reflective attitudes faster than non-technical ones. Most young adults today are common users, which suggests low demand for ICT in educational and professional areas where young people are actively involved. Youth socialization employs traditional forms of information culture, for example, book culture.