01.01.2014 | Original | Ausgabe 1/2014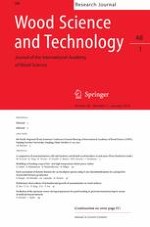 Early assessment of density features for 19
Eucalyptus

species using X-ray microdensitometry in a perspective of potential biomass production
Zeitschrift:
Autoren:

S. Knapic, M. Pirralho, J. L. Louzada, H. Pereira
Abstract
Eucalyptus
plantations have been considered for bioenergy production and hence their biological characteristics that make them amenable to intensive short-rotation forestry. Wood density is an important parameter that directly affects fuel production. This study focuses on the early assessment of density features for 19
Eucalyptus
species using X-ray microdensitometry in a perspective of potential biomass production. Average ring density, earlywood density, latewood density, latewood percentage and the heterogeneity index were studied.
E. polyanthemos
registered the highest mean wood density value (0.84 g cm
−3
), and
E. viminalis
showed the lowest value (0.53 g cm
−3
). An indicator for the potential wood biomass (PWB) was calculated, with
E. maculata
displaying the highest biomass production index (13.4 kg). Comparison of radial growth of these species showed appreciable differences. The PWB indicator points to the prospective good aptitude for short-rotation cycle for biomass production of
E. maculata
,
E. botryoides
,
E. globulus
,
E. nitens
and
E. sideroxylon
.