2013 | OriginalPaper | Buchkapitel
12. Earned Value Management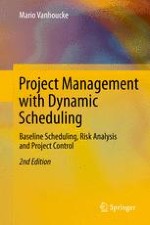 Erstes Kapitel lesen
Autor: Mario Vanhoucke
Verlag: Springer Berlin Heidelberg
Abstract
In the previous parts of this book, it was assumed that the project has not started yet, and hence, the project was still in the definition and scheduling phase of the project life cycle. From this chapter on, it is assumed that the project has started (execution phase) and that the project is in progress. Consequently, it is the task of the project manager to carefully control the performance of the project, using his/her knowledge of the schedule risk analyses and baseline scheduling steps discussed in the two previous parts. The project control dimension of dynamic scheduling can be done relying on a well-established technique known as
Earned Value Management
.Earned Value Management (EVM) is a methodology used since the 1960s, when the USA department of defense proposed a standard method to measure a project's performance. The system relies on a set of often straightforward metrics to measure and evaluate the general health of a project. These metrics serve as early warning signals to timely detect project problems or to exploit project opportunities. The purpose of an EVM system is to provide answers to project managers on questions such as:
What is the difference between budgeted and actual costs?

What is the current project status? Ahead of schedule or schedule delay?

Given the current project performance, what is the expected remaining time and cost of the project?
This chapter gives an overview of all EVM metrics and performance measures to monitor the time and cost dimension of a project's current progress to date, and shows how this information can be used to predict the expected remaining time and cost to finalize the project. This information serves as a trigger to take corrective actions to bring the project back on track when needed.