2021 | Buchreihe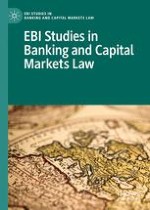 EBI Studies in Banking and Capital Markets Law
5 Jahrgänge | 2021 - 2023
Beschreibung
General Series Editors
(all members of the EBI Academic Board)
Danny Busch, Financial Law Centre (FLC), Radboud University Nijmegen, Nijmegen, The Netherlands
Christos V. Gortsos, National and Kapodistrian University of Athens, Athens, Greece
Antonella Sciarrone Alibrandi, Università Cattolica del Sacro Cuore, Milan, Italy
The European Banking Institute
The European Banking Institute based in Frankfurt is an international centre for banking studies resulting from the joint venture of Europe's preeminent academic institutions which have decided to share and coordinate their commitments and structure their research activities in order to provide the highest quality legal, economic and accounting studies in the field of banking regulation, banking supervision and banking resolution in Europe. The European Banking Institute is structured to promote the dialogue between scholars, regulators, supervisors, industry representatives and advisors in relation to issues concerning the regulation and supervision of financial institutions and financial markets from a legal, economic and any other related viewpoint.
As of May 2021, the Academic Members of the European Banking Institute are the following: Universiteit van Amsterdam, University of Antwerp, University of Piraeus, Alma Mater Studiorum–Università di Bologna, Universität Bonn, Academia de Studii Economice din București (ASE), Trinity College Dublin, University of Edinburgh, Goethe-Universität, Universiteit Gent, University of Helsinki, Universiteit Leiden, KU Leuven University, Universidade Católica Portuguesa, Universidade de Lisboa, University of Ljubljana, Queen Mary University of London, Université du Luxembourg, Universidad Autónoma Madrid, Universidad Carlos III de Madrid, Universidad Complutense, Madrid, Johannes Gutenberg University Mainz, University of Malta, Università Cattolica del Sacro Cuore, University of Cyprus, Radboud Universiteit, BI Norwegian Business School, Université Panthéon - Sorbonne (Paris 1), Université Panthéon-Assas (Paris 2), University of Stockholm, University of Tartu, University of Vienna, University of Wrocław, Universität Zürich.
Supervisory Board of the European Banking Institute:
Thomas Gstaedtner, President of the Supervisory Board of the European Banking Institute
Enrico Leone, Chancellor of the European Banking Institute
European Banking Institute e.V.
TechQuartier (POLLUX), Platz der Einheit 2
60327 Frankfurt am Main, Germany
Website: www.ebi-europa.eu
Editorial Board
(All members of the EBI Academic Board)
Dariusz Adamski, University of Wroclaw
Filippo Annunziata, Bocconi University
Jens-Hinrich Binder, University of Tübingen
William Blair, Queen Mary University of London
Concetta Brescia Morra, University of Roma Tre
Blanaid Clarke, Trinity College Dublin, Law School
Veerle Colaert, KU Leuven University
Guido Ferrarini, University of Genoa
Seraina Grünewald, Radboud University Nijmegen
Christos Hadjiemmanuil, University of Piraeus
Bart Joosen, Free University Amsterdam
Marco Lamandini, University of Bologna
Rosa Lastra, Queen Mary University of London
Edgar Löw, Frankfurt School of Finance & Management
Luis Morais, University of Lisbon, Law School
Peter O. Mülbert, University of Mainz
David Ramos Muñoz, University Carlos III of Madrid
Andre Prüm, University of Luxembourg
Juana Pulgar Ezquerra, Complutense University of Madrid
Georg Ringe, University of Hamburg
Rolf Sethe, University of Zürich
Michele Siri, University of Genoa
Eddy Wymeersch, University of Ghent