01.08.2014 | Technical Article | Ausgabe 4/2014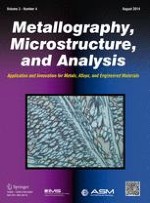 EBSD Investigations on Cutting Edges of Non-Oriented Electrical Steel
Zeitschrift:
Autoren:

H. M. S. Harstick, M. Ritter, A. Plath, W. Riehemann
Wichtige Hinweise
This article is an invited paper selected from presentations at the 2013 Microscopy & Microanalysis Conference, held August 4–8, 2013, in Indianapolis, Indiana, USA, and has been expanded from the original presentation.
Abstract
In order to reduce the eddy current losses in electrical machines, stator and rotor cores are made of stacked electrically isolated steel sheets. For volume production of rotor and stator laminations in the automotive industry, the non-oriented electrical steel sheets are cut in a high speed punching process. Not only the material properties of the electrical steel but also the entire manufacturing process affect the magnetic properties of the stator and rotor components. In this contribution, the influence of plastic deformation on the microstructure at the cutting edges and on the resulting magnetic properties with respect to the selected cutting procedure was investigated. As a result of progressing tool wear, the degree of plastic deformation caused by the shearing procedure during the punching process increases. Furthermore, cutting parameters such as clearance and cutting speed have an effect on the magnetic properties of the steel laminations. The influence of tool wear and cutting speed on the material properties was analyzed by means of light microscopy, hysteresis measurements, and electron backscatter diffraction.