2013 | OriginalPaper | Buchkapitel
7. Eco-Activity and Innovativeness: What Is Their Relation to Environmental Performance in Consumer Firms and Industrial Firms?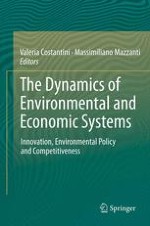 Erstes Kapitel lesen
Autoren: Nicoline Oehme, René Kemp
Verlag: Springer Netherlands
Abstract
This chapter examines the link between environmental performance, corporate social performance and innovativeness for consumer and industrial firms, using company data on R&D, environmental and corporate social performance from the Kinder, Lydenberg and Domini (KLD) database for US-based firms. We find empirically that during the period from 1999 to 2008, there has been an increase in environmental action, especially since 2004. A positive correlation is found to exist between environmental and non-environmental social performance in many dimensions and a positive but weak link between environmental performance and R&D per employee or unit of sales. This chapter shows that there is a difference between consumer and industrial firms in terms of the evolution of eco-activities and environmental impact. Contrary to what we expected, industrial firms undertook more product-related eco-activities than consumer firms. Industrial firms also showed a greater increase in process-related eco-activity. The increase in eco-activity went with an increase in eco-impact in both company types, suggesting that environmental action did not arrest environmental degradation overall.