2013 | OriginalPaper | Buchkapitel
34. Eco-business Planning: Idea Generation Method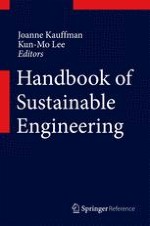 Erstes Kapitel lesen
Autoren: Dr. Shinsuke Kondoh, Dr. Hitoshi Komoto
Verlag: Springer Netherlands
Abstract
From the point of view of sustainability as well as an economic perspective, business planning, monitoring, evaluation, and communication with customers and a wide variety of other stakeholders are becoming more and more important. In this context, a growing number of methods and tools for sustainable product and business design are proposed. Examples include design for environment (DfE), product service system (PSS), industrial product service system (IPSS), servicizing, function selling, service engineering, life cycle assessment (LCA), and life cycle simulation (LCS) methods.
However, it is often difficult to determine business activities that actually contribute to or harm the sustainability of the earth due to complexity of the cause-effect chains observed in business activities among stakeholders. Rebound effects typically show such indirect causality; for instance, the development of fuel-efficient vehicles may contribute to the reduction of energy consumption from a systemic perspective. However, the development sometimes increases energy consumption, because users of these vehicles may be less aware of the environmental loads of driving activities and drive more in consequence. Furthermore, governmental subsidies that stimulate the market introduction of these vehicles may result in the purchasing power of the potential owners in a long term.
In such a case, it is crucial to configure the business economically and environmentally feasible in a long term by introducing new activities (e.g., introduction of a user incentive scheme regarding the reduction of energy consumption) accompanied with energy-efficient technologies. Consideration of such direct and indirect influences of the development of energy-efficient technology on business activities in multiple time scales, and vice versa, is indispensable for idea generation of eco-business.
Although LCS and LCA can analyze both direct and indirect influences of business activities in a long term if they are appropriately represented in the numerical models, they are not sufficient for idea generation of eco-business. To support the idea generation of eco-business, study on modeling methods dealing with indirect causalities in a systematic and comprehensive manner is inevitable. Collection of a variety of cause-effect patterns observed in the existing eco-business cases and utilization of these patterns at the idea generation process is a basis of such study.
The objective of this chapter is to propose an idea generation method for eco-business planning that handles complex relations among business activities among stakeholders from multiple time scales. Firstly, cause-effect patterns in a successful eco-business models and cases, including IPSS and function selling, are identified and formulated into cause-effect pattern library focusing on the gaps between the condition of each successful case and those of conventional businesses. Causal-loop diagram (CLD), which is a kind of system dynamics tool, is utilized to describe the gaps. Then, using information contained in the library, an idea generation procedure of eco-business is illustrated with a simplified "EcoFleet" business. Finally, future development needs of the proposed method are also discussed.
This chapter is prepared for all business planners and product designers who wish to make their product and service more environmentally friendly. Any specific knowledge in engineering design are not necessary to read through this chapter.