01.04.2015 | Original Paper | Ausgabe 4/2015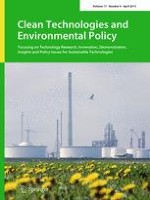 Eco-friendly dyeing of treated wool fabrics with reactive dyes using chitosanpoly(propylene imine)dendreimer hybrid
Zeitschrift:
Autoren:

Mousa Sadeghi-Kiakhani, Siyamak Safapour
Abstract
Chitosan-poly(propylene imine) dendrimer (CS-PPI) hybrid was successfully prepared and grafted on wool substrate. The impact of key operational grafting factors, i.e., pH, temperature, and CS-PPI concentration on grafting yield, was investigated through dyeing with two commercial reactive dyes, C.I. Reactive Orange 122 (RO122) and C.I. Reactive Red 195 (RR195). The optimal grafting values obtained were pH 6, temperature 70 °C, and 20 % owf CS-PPI concentration. The performance of CS-PPI-grafted wool was investigated in terms of dyeing ability, color fastness, and shrinkage of wool fabrics. Grafted wool actually showed lowered optimal dyeing temperature of 40 °C as compared to those of pristine wool (80 °C). The color depth (
K/S
) comparison of CS-PPI grafted wool dyed with no salt usage in dye bath with those of pristine wool conventionally dyed with 30 % owf salt revealed that both grafted and pristine samples had similar color depth suggesting elimination of salt from reactive dye bath so-called "salt free dyeing" for grafted wool. No remarkable change in color fastness of dyed grafted wool fabrics against wash, rub, light, and perspiration was observed and all were in good and acceptable level. In addition, the shrink-proofing property of CS-PPI grafted wool fabrics was also enhanced. The results of this study clearly indicated that CS-PPI hybrid is a high potential novel bio-compatible compound which can be successfully used in finishing of wool in both eco-friendliness and energy saving standpoint in dyeing process.