01.01.2015 | Thematic Issue | Ausgabe 2/2015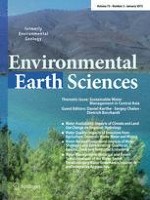 Eco-morphological response of floodplain forests (
Populus euphratica

Oliv.) to water diversion in the lower Tarim River, northwest China
Zeitschrift:
Autoren:

Tayierjiang Aishan, Ümüt Halik, Alishir Kurban, Bernd Cyffka, Martin Kuba, Florian Betz, Maierdang Keyimu
Abstract
The Tarim River is about 1,320 km long and is one of the longest continental inland waterways in the world. In an undisturbed state, it is accompanied on both sides by floodplain forests of Euphrates poplar (
Populus euphratica
Oliv.). The rising water consumption in the upper and middle reaches, and massive hydro-technical interventions in the development of uncultivated land for cotton farming, especially during the last decades, have led to a widespread destruction of the natural ecosystems. This is the case particularly in the lower reaches of the river, where 320 km of the floodplain forests are either highly degraded or dead. Since the year 2000, the Chinese government has made efforts to restore these ecosystems and conducted man-made water diversion project into the affected area. The starting phase of recovering measures needs an efficient and extensive long-term monitoring. A combined approach of remote sensing and terrestrial samples can meet these demands. This study is based on the data from a small-scale ecological monitoring in the past 7 years and combination of QuickBird image information of the floodplain forests along the lower reaches of the Tarim River within the purview of the man-made restoration project. The effects of the artificial water diversion on the dynamics of the groundwater layer and the revitalization of
P. euphratica
floodplain forests have been analysed in the Arghan transect. The results showed that the groundwater level has risen from 12.6 to 5.5–6.2 m below the surface in the vicinity of the river beds. Some eco-morphological parameters of the
P. euphratica
trees have different levels of response to the ecological water diversion. To specify, in the vertical direction, the farther the trees are from the river, the weaker the response of ecological indicators. These parameters include tree vitality level, crown diameter, under branch height as well as newly developed crown types of
P. euphratica
trees. Generally, the floodplain forests within 200 m to the riverbed recovered remarkably, and those between 200 and 800 m from the river showed a medium response to the water transfer, while forests further away than 800 m from the river bed showed less sign of recovery.