2019 | OriginalPaper | Buchkapitel
Eco-Productivity: A Useful Guide for Sustainability Decision-Making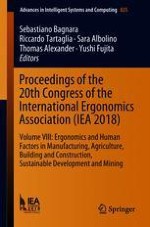 Erstes Kapitel lesen
Autoren: Martha Helena Saravia-Pinilla, Carolina Daza-Beltrán, Gabriel García-Acosta
Abstract
Originally written and presented to establish direct interdisciplinary connection between the area of ergonomics and the field of ecology, Ergoecology aims to integrate evaluation and intervention processes used by ergonomics and environmental management systems. Ergoecology -from a systemic focus- "takes care of studying the human being and its relationships with the environment -through its activities (work)- to establish, analyse, reduce, prevent, control and rectify the (positive and negative) impacts that derive from such a relationship".
Ergoecology, pursuing dynamic equilibrium and environmental balance, proposes a series of principles, postulates and axioms to achieve the social, environmental and business sustainability. Its postulates are eco-efficiency (systemic) and eco-productivity. However, eco-productivity has not been sufficiently developed in a way to be applied. That is why we unfold this concept and point out some guidelines for its application.
Within Ergoecology, eco-productivity is "the ability of systems to transform energy, matter (resources) and information into products or services, without generating negative impacts on other systems that interact with them". This implies impact-variables rationalization to control productive system, always tending to operational equilibrium. In this sense, eco-productivity implies the application of environmentally friendly innovative technological changes to develop environmentally acceptable products and processes.
As eco-efficiency (systemic) and eco-productivity concepts cover economic, social, and environmental dimensions, we may conclude that they become strategic indicators when the interdependencies between artefact-human (sociotechnical) systems and natural systems are being evaluated. Then, 'eco-productivity guidelines' contribute to decision-making in the different phases of production processes to ensure the long-term sustainability of organizations.