01.10.2011 | Ausgabe 5/2011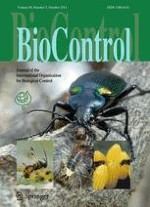 Ecological characterisation of
Steinernema siamkayai

(Rhabditida: Steinernematidae), a warm-adapted entomopathogenic nematode isolate from India
Zeitschrift:
Autoren:

Ramalingam Karthik Raja, Sivaperumal Sivaramakrishnan, Selcuk Hazir
Wichtige Hinweise
Handling Editor: Ralf Ehlers
Abstract
Our study describes basic ecological properties of
Steinernema siamkayai
Tiruchirappalli strain from India. The effect of temperature on nematode infectivity and development, laboratory host range and foraging behaviour were determined. The data showed that
S. siamkayai
is a warm-adapted nematode species with larval mortality observed between 15°C and 37.5°C and nematode reproduction occurring between 20°C and 35°C. All insect species used in this study were susceptible to
S. siamkayai
under laboratory conditions. Sixty infective juveniles (IJs) per insect were used and the lepidopterans,
Galleria mellonella
(100%) and
Spodoptera exigua
(85%), were the most susceptible species followed by the dipteran,
Ceratitis capitata
(60%), and lepidopteran
, Cydia splendana
(55%), and the coleopteran,
Tenebrio molitor
(45%), whereas the coleopteran,
Curculio elephas
(25%)
,
was the least susceptible species.
S. siamkayai
infective juveniles (IJs) stood on their tails and jumped and could also attach to a mobile host at a rate of 27 IJs larvae
−1
out of 1000 IJs in 10 min. Larval mortality of
G.
mellonella
by
S. siamkayai
on different substrates (sand, filter paper, filter paper sprinkled with sand) was 100% on all substrates. Number of IJs out of 100 IJs that penetrated into a
G. mellonella
host at different soil depths was the highest at the surface (44 IJs larva
−1
) and the lowest at 5 cm depth (13 IJs larva
−1
) with no larval mortality observed at 10 cm depth. In addition, the symbiotic bacterium of
S. siamkayai
was identified as
Xenorhabdus stockiae
based on genotypic and phenotypic characterisation. Bacterial growth was observed between 15°C and 41°C.